Bernardo
San Rafael
I'm a dance performance artist. Born in Costa Rica, grown up in Germany, the topics of my performances are materialistic extremes and the life in abundance. I perform in public spaces to bring my artistic purposes to everyone.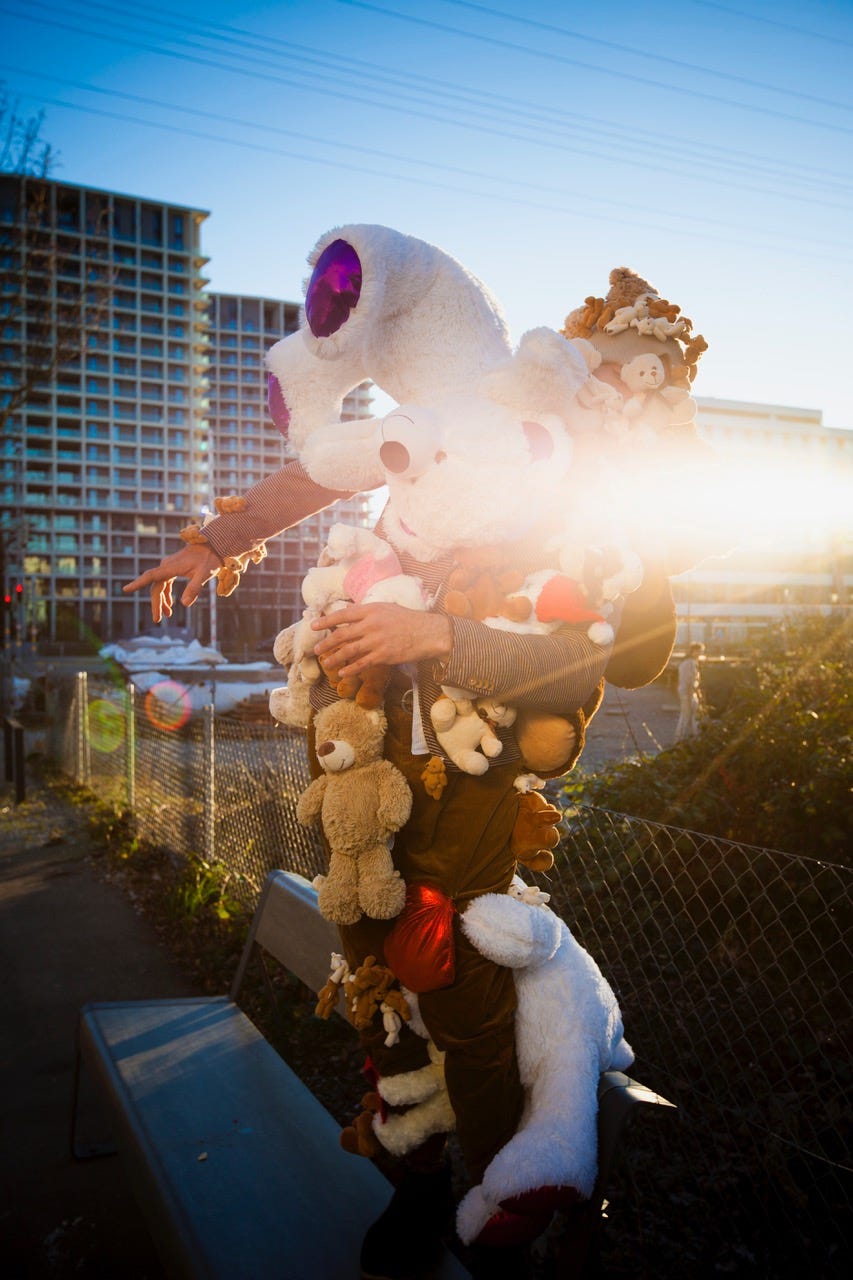 Teddy
In this performance I got inspired trough the migration from children in Central America who get missed and disappear in Mexico. Those children are leaving their countries in a hopeless search for a better future in the USA. In Central America the teddy bear is a symbol not only for love but for a good life in abundance, what they expect to get crossing illegally the border. They are migrating to get the teddies they couldn't have before in the childhood.

The global effects of our extremely materialistic life is for the most of the people known but ignored.

"Teddy" is all about the desires and hope in the childhood , migrating trough our lives and disappearing in the trouble of a materialistic research looking for happiness before we die.

The performance will be shown
2019 Mumbai, New Delhi, Düsseldorf, Skiathos, Athens, Zurich
2020 San Jose, Rio de Janeiro, Tegucigalpa.
22.8.2019 Düsseldorf

17h:
Dreieck

17.30h: Tonhalle/Oberkasseler Brücke

18.30h :
Innenstadt/ Rathaus Platz

19.10h :
Rhein Knie Brücke

20.30h :
Graf Adolf Platz/ Königsallee

(Photo:
Marvin Hillebrand)
30.8.2019 Skiathos

18.45h:
Old Port

19h:
Ekklisia Panagia Limnia

19.30h
Papadiamanti

20h
Spiti Tou Papadiamanti

20.45h:
Bourtzi and Vorio Neo Limani

21.10
Old Port

(Photo:
Pablo Tys)
Zürich

Itinerary coming soon!
(Photo:
Mareike Foecking)
14.12.2019 ATHENS

Itinerary coming soon!
(Photo:
Matthias Rosenkranz)
Photo:
Matthias Rosenkranz
Photo:
Matthias Rosenkranz
Photo:
Matthias Rosenkranz
Düsseldorf 31.5.2019
Video: Matthias Rosenkranz
SEA URCHIN
"Sea urchin" started on the island of Skiathos,Greece as a very spontaneous performance in a bar. I began to collect all the used straws I founded in the city and installed them as a part of my body. It's remember the beautiful but dangerous and sometimes painful sea urchins around the beaches from the island.
At the same time, I use the performance to make attention to the irrational use of plastic in our daily life.
How do I feel if I have to live with plastic in or on my body as many animals in the ocean?
Since Sommer 2019 I use to do this small action in every city I visit .
PRESSE
Here you can find some of the various newspapers publications about the performances.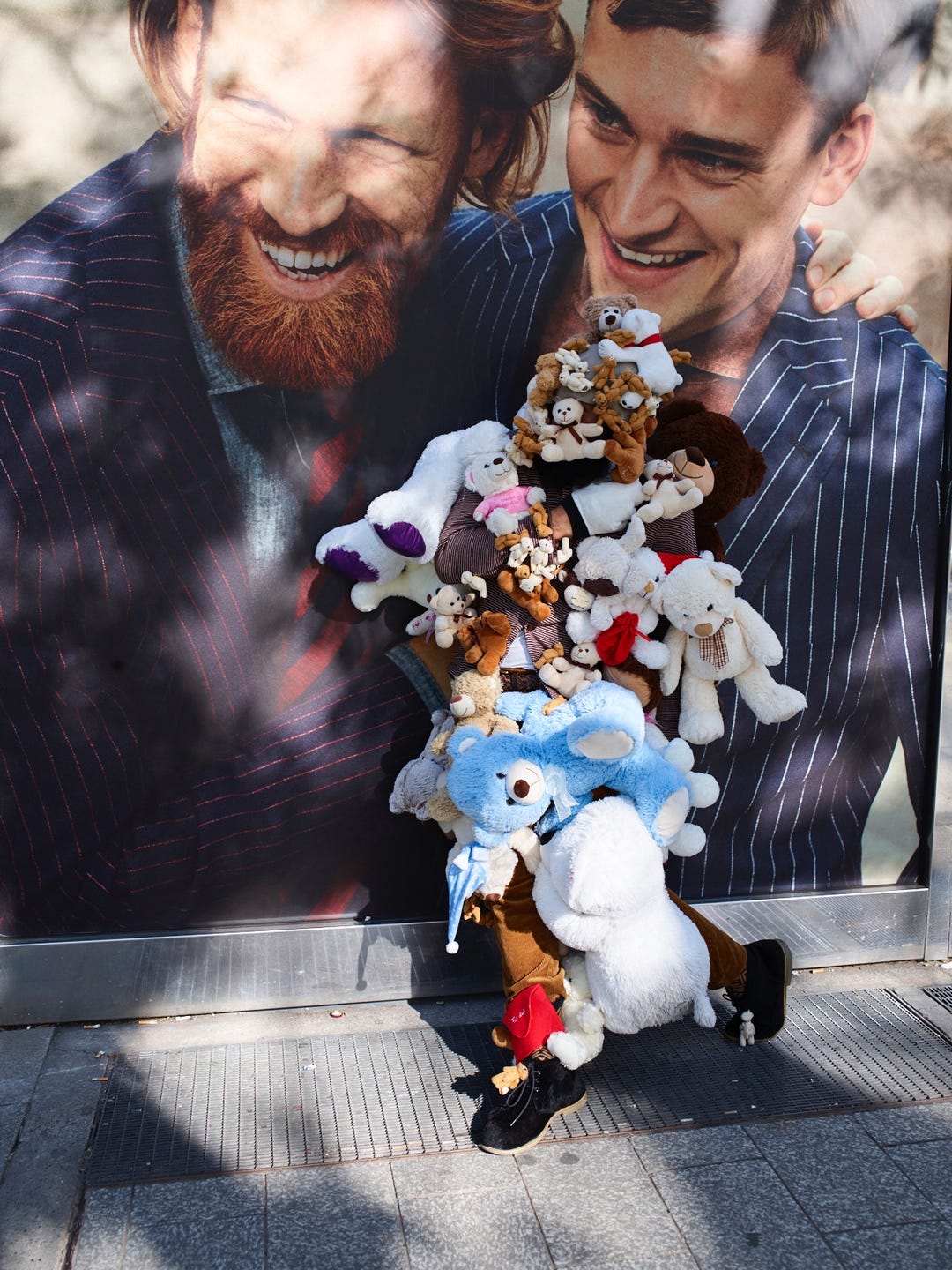 About me
Born in beautiful tropical Costa Rica I started my artistic education at the age of 8 at the Conservatorio de Musica y Artes de la Universidad de Costa Rica and finished my studies at the Ecole Professionelle Superior de Danse in Montpellier in France.

I worked as a dancer for Stadttheater Freiburg, Deutsche Rheinoper Düsseldorf / Duisburg, Theater Dortmund and the Oper Bonn and as a performer for Angie Hiesl and Roland Kaiser in Cologne.

As a teacher I have been invited to give classes in Istanbul (CATI), Skiathos ( ERASMUS), Athens (ECHODRAMA) , Freiburg (Bewegungsart) and Düsseldorf ( Tanzhaus NRW)).



E-MAIL Adress
me@bernardosanrafael.com